Anthony's Tourtière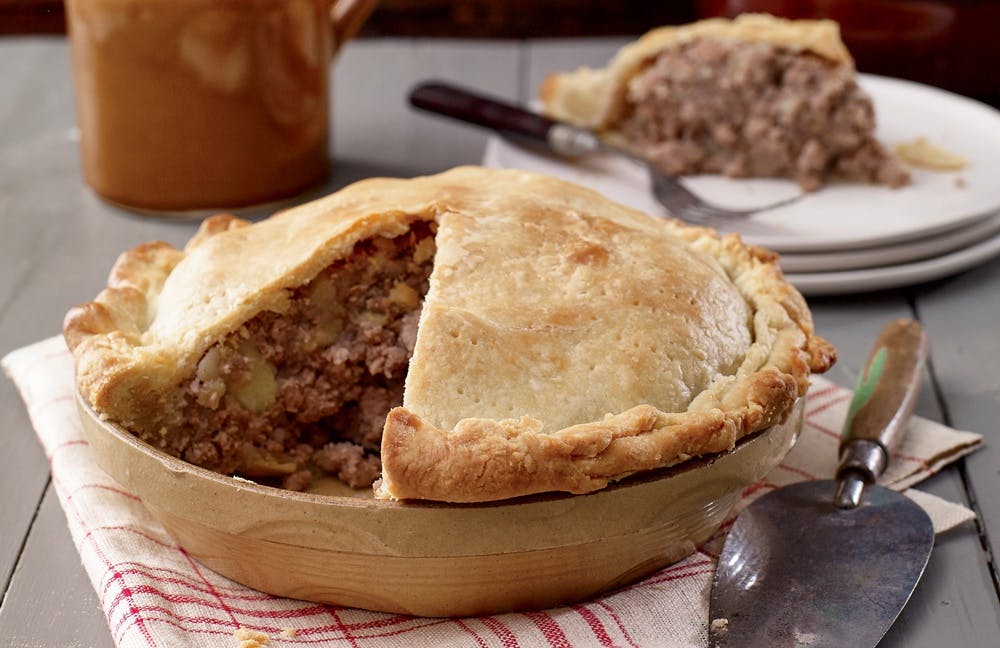 Our general manager Anthony is from Canada, so when asked what his favorite holiday dish is, he of course answered with something uniquely French Canadian - tourtière. Tourtière is a mixture of wonderfully spiced minced meats in a buttery pie crust that serves to fortify against the cold winter weather. Anthony makes one each holiday season, and he's been making it for so long that he follows the recipe by heart. When describing the dish, he speaks with a fondness built over years of sharing it with friends and family.
Tourtière isn't on our menu, but that won't stop us from passing on the recipe to you in hopes that you'll experience the same holiday spirit and warmth that Anthony puts into his. It's not too tricky if you're open to giving it the time, and what more of a gift can you give to someone than time spent showing how much you care? Season's greetings and warm wishes from all of us at Whiskey Bird!
Tourtière
Yields: 6-8 servings
For the Dough
Traditionally, the pie dough is made from scratch, but to make this recipe a little easier, we recommend using a frozen pie crust. You'll still get the same buttery, flakey goodness and cut down on time
For the Filling
1 1/2-2 pounds pork-shoulder meat, cut into 1 1/2-inch chunks
Kosher salt and freshly ground black pepper to taste
2 tablespoons neutral oil, like canola
5 allspice berries
2 cinnamon sticks
1 12-ounce bottle stout or other dark beer
4 large chicken thighs, or 1 large turkey thigh
2 tablespoons unsalted butter
2 medium-size yellow onions, peeled and diced
4 cloves garlic, peeled and minced
2 tablespoons parsley, roughly chopped
10 to 12 ounces cremini mushrooms or a mixture of wild mushrooms, sliced
½ cup dry white wine or stock
1 pound ground pork
½ teaspoon ground white pepper
⅛ teaspoon ground cinnamon
⅛ teaspoon ground clove
Pinch of ground nutmeg
Pinch of cayenne pepper or to taste
2 medium-size potatoes, like Yukon Gold, grated
1 large egg yolk, beaten with a tablespoon of water
Step 1
Prepare the pork shoulder and season pork pieces thoroughly with salt and pepper. Heat 1 tbsp of the oil into a large, deep skillet over medium-high heat. Sear the meat on all sides until browned, turning as necessary, about 10 minutes.
Step 2
Add the allspice, berries and cinnamon sticks to the pan. Stir to toast them, then add the beer. Bring to a boil, then reduce the heat, cover and simmer until the pork is very tender, about 50 minutes. (When the pork is done, you can allow it to cool in its liquid and refrigerate it for one or two days before using.)
Step 3
Cook the chicken or turkey. Heat oven to 325 degrees. Season the thighs thoroughly with salt and pepper, then roast in a cast iron pan or shallow baking tray until skin is crispy and they have cooked through, approximately 1 hour.
Step 4
Make the pie filling. Melt the butter in a large, heavy-bottomed pot or pan over medium heat. You will add all of the meats to this in step 5, so make sure it is large enough to hold all of it. Then add the onions, garlic and parsley. Let cook and stir often until soft, about 5 minutes. Add the mushrooms and cook until they are soft and have given up their liquid, about 6 minutes. Add wine or stock, stir to deglaze the pan, then cook until the liquid has evaporated, 5 minutes.
Step 5
Add the ground pork and the spices to the pot, and cook until the pork has lost its pinkness, about 6 minutes. Add in the grated potato, and cook for an additional 6 minutes. Remove from the heat.
Step 6
Shred the cooked chicken or turkey into the pot. Add about 1/2 cup of the pork's braising liquid, stir lightly to combine. Season to taste with salt and pepper. Chill in the refrigerator for at least an hour and up to a day.
Step 7
Prepare to fill your store-bought pie crust according to package instructions.
Step 8
Put the chilled filling into the pie crust. Cover with remaining dough and crimp the edges together. Using a sharp knife, cut three or four steam vents in the top of the crust. Paint the pie's top with the egg wash.
Step 9
Place pie in a 400-degree oven on a hot baking sheet, and cook for 20 minutes, then reduce temperature to 350, and cook until golden brown and the filling is bubbling, about 30 to 40 minutes more. Let cool before serving.