Korean-Inspired Short Ribs Recipe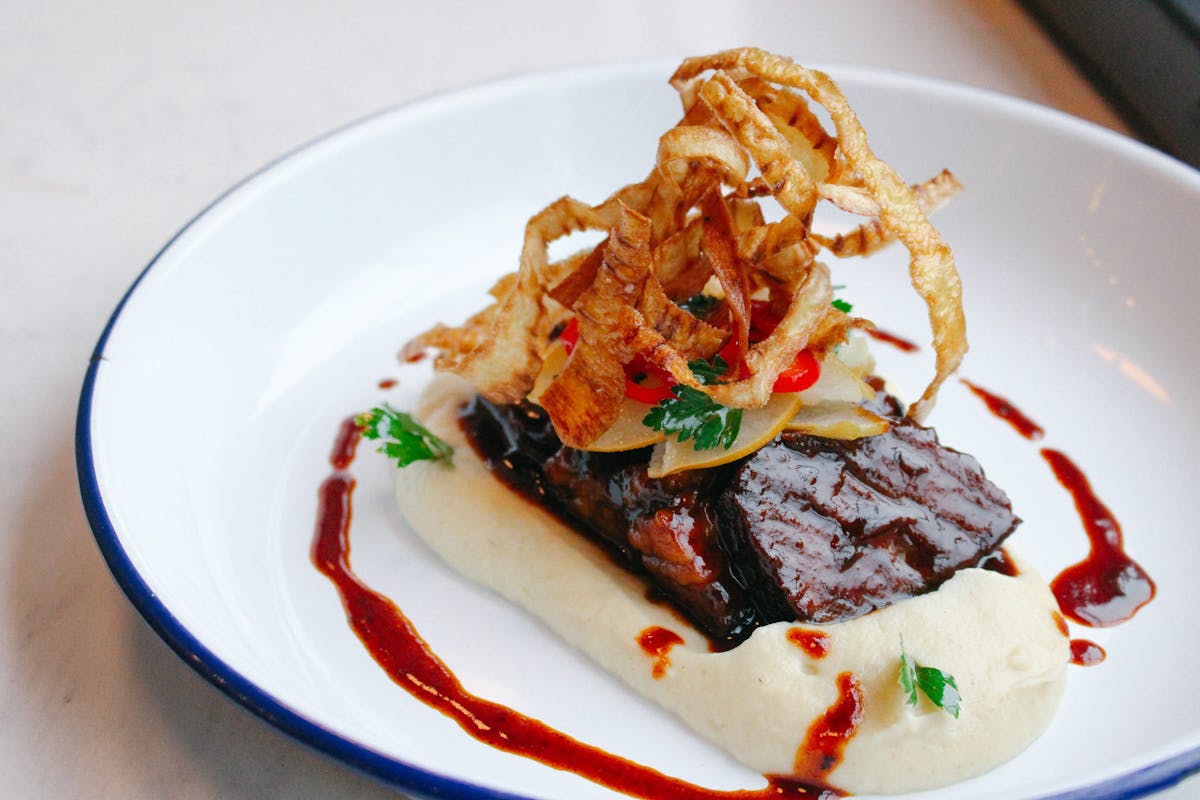 Cooking with Asian flavors is much easier than most people think and is a great way to step up your game for weeknight dinners. Once you have a few key ingredients, you can infuse almost anything with an Asian flair. The short ribs we make at Whiskey Bird are a fresh Korean-inspired take on your typical meat-and-potatoes dish. So we thought, why not make a recipe for you to be able to do the same at home.
The flavors that make this short rib recipe Asian are soy sauce, ginger, and gochujang. What is gochujang, you ask? Simply put, it's a fermented paste made out of red chili powder, glutinous rice powder, fermented soybeans, and salt. Think of it as a flavor bomb that is spicy, tangy, and sweet. Once commercial production of gochujang became popular in the 1970s, it was common for Korean households to purchase the pre-made paste at their local grocery store. Needless to say, it's a great shortcut to an amazing flavor profile.
KOREAN-INSPIRED SHORT RIBS (advanced)
makes ~4 servings
8 Short Ribs
1 cup beef broth (low sodium)
1 cup dry red wine
1 cup water
1/3 cup low sodium soy sauce (tamari for GF)
1/4 cup rice wine vinegar
1/4 cup brown sugar
1/4 cup gochujang chili paste
4 cloves garlic chopped
1 inch nob of ginger chopped
1. Heat oven to 350.
2. Combine all ingredients (except short ribs) in a pot and bring to a boil.
Remove from heat and stir to ensure all ingredients are incorporated.
3. Sear short ribs in a separate pan and then place in a casserole dish or dutch oven.
4. Pour hot braising liquid over ribs and place in oven.
5. Bake for 4 hours, turning short ribs every hour.
Once done baking, remove short ribs from liquid and set aside.
6. Pour braising liquid into the pot you previously used and reduce by half to create sauce.

**Recipe works with crock pots and instant pots too! Follow appliance instructions for braising meats and finish off the ribs with more sauce and a broil in the oven for extra caramelization.
Serve short ribs with your favorite sides – we recommend mashed potatoes or cauliflower, rice and your favorite vegetables. Roasted brussels sprouts are always a great winter option. Serve with the reduced sauce on the side to be poured over ribs and sides as desired.
We tested this recipe in our own home kitchens and ended up devouring every rib! As with any recipe, try it once and then you can tweak it to suit your family's palate for next time. Maybe you would like a little more spice (add gochujang or chili flakes). Or maybe you would like a little more sweetness (add sugar). Don't be afraid of a new ingredient – it just takes experimentation to see how it'll work for you. Good news is that your family has probably never had it before so they'll be blown away regardless.

We want to see how you do! If you do make these short ribs at home, take a picture and tag us @whiskeybird or share with us at the restaurant. We look forward to hearing how this changes up your family dinner routine.