Spotlight on Anthony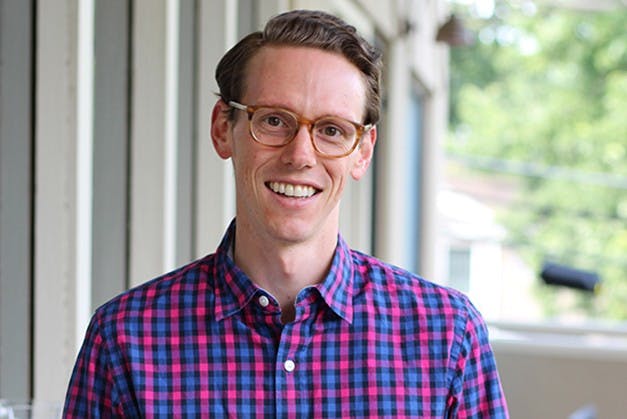 What's your first memory of your best friend and restaurant partner, Chef Chad?
I don't know if I have a first memory per se, but more a collection of early experiences that come to mind and they all involve food and cooking. Chad always knew how to make things taste delicious, but there was this one time I distinctly remember. I was going over to a friends house for a dinner in which Chad was cooking. We were all hanging out in the kitchen when Chad grabbed me and said "try this, its delish!" and sure enough.. it was amazing. He explained to me that good food is all about contrast and balance. You need different flavors and textures to make it interesting – sweet, salty, spicy, some acid and crunch. You want to ensure that each bite has a lot of depth and layers to it, but nothing is overwhelming. That was my first true cooking lesson and probably the most important one I have ever had to this day.
What made you feel confident enough to move to Atlanta and start Whiskey Bird?
I believe in Chad, his food and our ability to work together to create something great. I believe in the concept and mission behind Whiskey Bird and that what we are doing is fun, exciting, unique and fills a need within the Atlanta dining landscape.
Favorite restaurant experience you've ever had?
There are two. One was a dinner I had with one of my good friends and our parents in San Francisco at A16 about 8 years ago. We called them and asked them to put together a set menu with wine pairings for us using only items they currently had on their menu. The meal was amazing, they went above and beyond and gave us this unforgettable experience that made me realize that you can have so many varying and incredible experiences at the same restaurant. The other was at the small hut of a restaurant in Hoi An where Lindsay and I had this incredible tamarind crab. The food was so good and so fresh the chef literally was running down the street to the market to buy the ingredients for our meal. The flavors of the crab were out of this world: sweet, spicy, salty. After every bite I wanted another, it was a meal I never wanted to end and I wish I could have eaten it over and over. I still think about flying back there just for this crab.
If you could only eat one dish for the rest of your life, what would it be?
Cacio e pepe: three simple ingredients pasta, parmesan, peppercorns
What's surprised you most about living in Atlanta?
How green it is. I love all the trees and parks throughout the city.
If you could have dinner with anyone living or dead, who would it be?
I would like to have dinner with my grandfather. He passed away when I was young and never had the opportunity to talk to him about his life and being an entrepreneur and small business owner. I think I could learn a lot from him and that we could share a laugh over some of the trials of being an entrepreneur.
What does Whiskey Bird mean to you and what do you want it to mean to others?
For me, it's an opportunity to surprise and delight as many people as possible and make a difference in people's lives. I love getting to know our guests and finding ways to make each experience of theirs better and to be involved in the community. I get so much joy from working with our staff to develop them and find ways they can grow and develop at Whiskey Bird and in their lives outside the restaurant. I want Whiskey Bird to mean the same to them.