Spotlight on Chad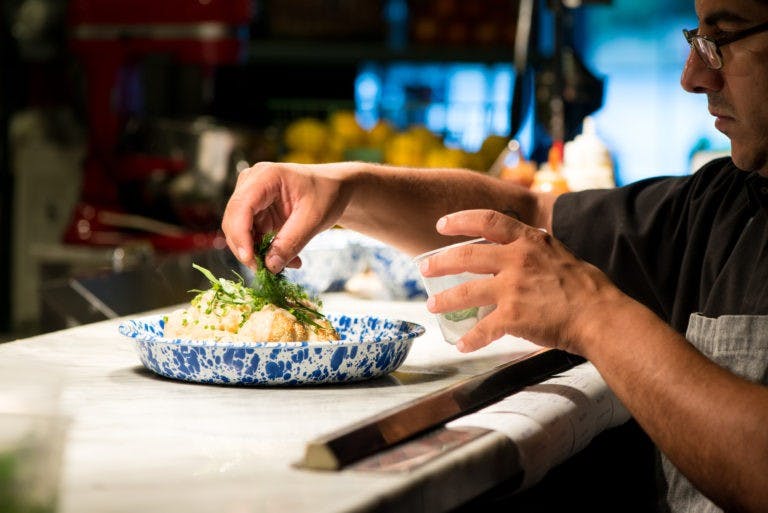 Whiskey Bird wouldn't be Whiskey Bird without the people who make it come to life every night. So we want you to get to know us a little bit better through this blog interview series and we're kickin' it off with a spotlight on Co-owner and Executive Chef, Chad Crete.
What's your first memory of your best friend and restaurant partner, Anthony?
Anthony and I met our first semester at Cornell and quickly hit it off as friends. Exactly when I cannot remember as that is now 14 years ago which is crazy to think!
Why did you choose to move to Atlanta? What would you change about this city if you could?
I moved to Atlanta in 2009 to open The Iberian Pig in Decatur. Another Cornell Hotel School friend of mine, Fred Castellucci, and I had discussed opening a restaurant while I was still in Las Vegas at the time. I picked up everything and moved to Atlanta in July 2009. We opened Iberian Pig in September 2009, so it was a crazy busy time to rush and open. Currently what I would change about Atlanta is the traffic situation. It is getting increasingly congested and as a result less people are venturing outside of their neighborhoods to support businesses across the city.
Which Atlanta restaurants do you admire?
I think we have a lot of great restaurants here in Atlanta but some of my favorites are Local 3, BoccaLupo, and Marcel.
What's your favorite type of cuisine to eat?
I like to eat mostly on Buford Highway when I can. Lately I've been hitting up Yummy Spicy which is Szechuan Cuisine, Food Termina which focuses on Malaysian, and Chateau Saigon. So the type of cuisine that I enjoy eating really depends on my current focus. With opening Whiskey Bird I have really focused my time and energy on eating any type of Asian cuisine to help drive menu development for Whiskey Bird.
Favorite type of cuisine to cook?
Depends on my current focus at the moment. Having been a chef of a Spanish tapas restaurant for 5 years, I still have a love for the many cuisines within Spain. Lately with Whiskey Bird I have been working on exploring and familiarizing myself with more Asian techniques and ingredients – predominately Korean and Japanese.
If you weren't a chef, what would you be doing?
I've been in the restaurant business my entire life since I was 14 years old so it's hard to imagine myself doing anything else. That being said, I'd probably still be in the food and beverage industry – perhaps helping develop restaurant concepts for hotel groups, allowing me to travel more which is a big passion of mine.
What does Whiskey Bird mean to you and what you want it to mean for others?
Whiskey Bird to me is a place that allows diners to have a unique dining experience of their choosing. The food that we offer at Whiskey Bird really cannot be found anywhere else in Atlanta. Guests can have a variety of different dining experiences, whether you want to come in for a quick snack and a cocktail or have a more traditional meal. For others, I'd like Whiskey Bird to mean quality, consistency, and a sought-out yet approachable destination to enjoy a meal.