Spotlight on Taylor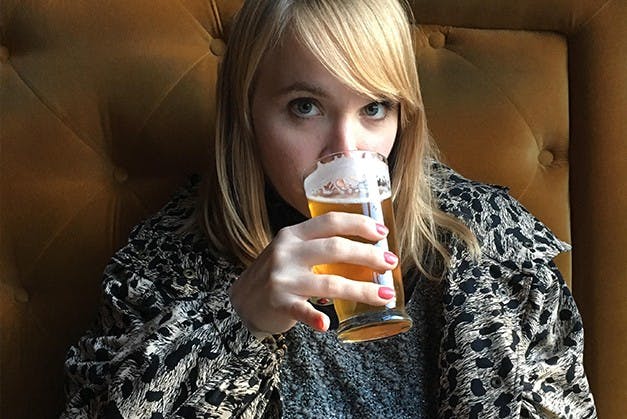 Our restaurant recently passed the one year mark! We couldn't have done it without the support of our community and the talent and dedication of our entire team. We're so elated to have achieved this milestone so we thought it was about time that we share more of the personalities that make up Whiskey Bird. Today we chat with Taylor, whose infectious laughter and positive attitude has been bringing smiles to the Whiskey Bird staff and guests from day one.
Name: Taylor
WB Position: Server
How long you've been working for WB: One Year and some change
Day Job: A dog walker for Alfie
Where are you from and what brought you to ATL?
I am from Jacksonville, FL and have lived there for the majority of my life, aside from living in Gainesville for college. I came to Atlanta to experience living in a big city and to get a change of scenery. Jacksonville was getting very tiring and uninspiring, I wanted new experiences with new people.
Hidden talent
I love to draw and create things with my hands. I dabble mostly in illustration, but I also paint and work with ceramics.
Guilty pleasure
My guilty pleasure is probably watching Keeping Up With the Kardashians. I find them utterly fascinating and would love to write a psychoanalytic book about their lives and shows one day.
If you could have dinner with any person, dead or alive, who would it be?
David Hockney! I would love to have dinner with both his current self and his past self. I love his art, he inspires me a lot.
Favorite dance move
Flailing my body around to whatever music is playing until it feels right.
Dream job if money were no object?
I would love to live with a host family in Spain and master the art of the Spanish language and make ceramics off the coast and sell them.
Favorite thing about working at Whiskey Bird?
Working at Whiskey Bird has been the best job I have ever had. Anthony and Chad are the best managers/owners and make it easy for all of us to feel like a little bird family when we are at work together. I've made friends at Whiskey Bird that I will have for a lifetime and that's really special to me.
Fave WB dish?
The Sesame Encrusted Ahi Tuna is my jam!