Thank you for Three Years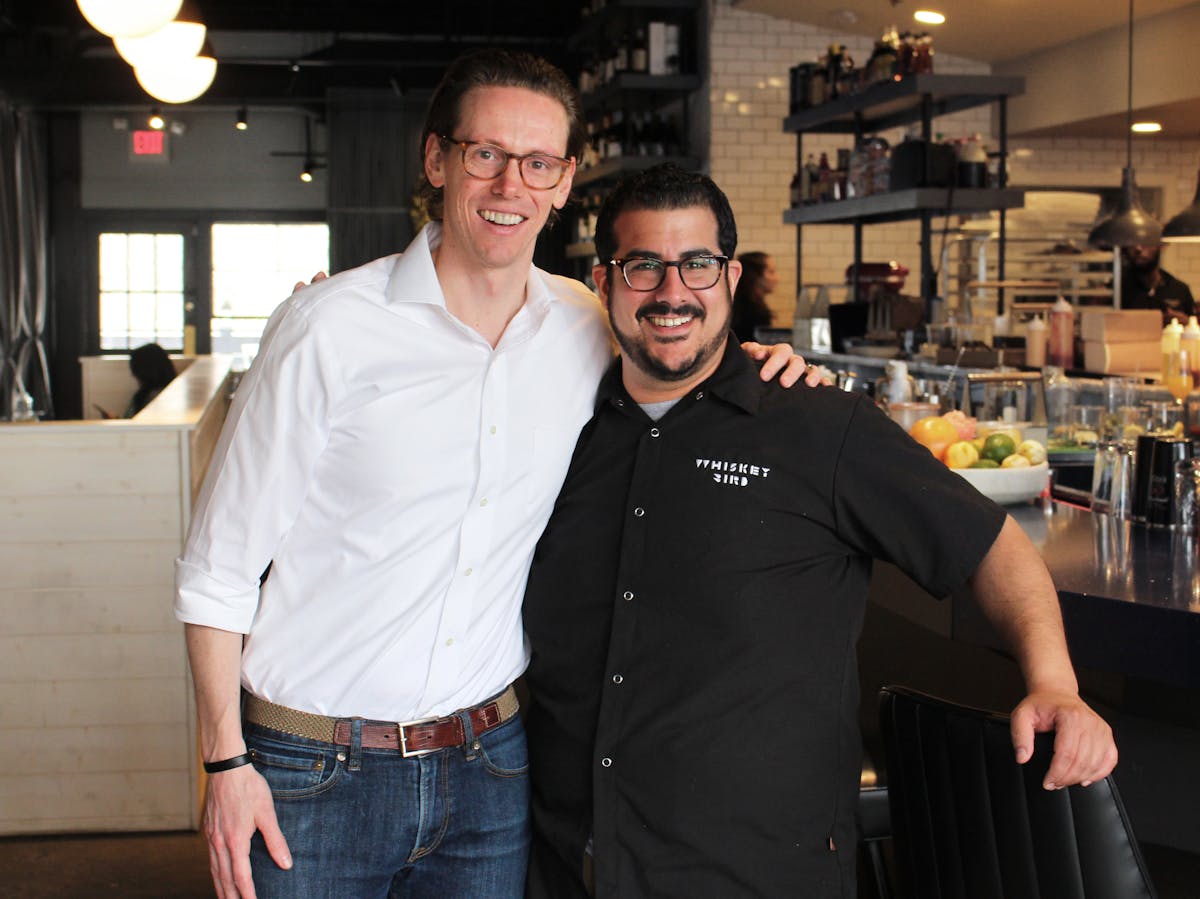 Like many of you, I never imagined a world with a global pandemic, and I certainly never imagined owning and operating a restaurant under these conditions. Two months ago when we began planning our annual anniversary celebration to be held in April, I assumed we would all cruise into spring just like any other year. February feels like a lifetime ago. Given the recent events we're faced with, our focus now turns to you, the Whiskey Bird Community. By Whiskey Bird Community, I mean all of us who are a part of WB in any way big or small - staff, patrons, neighbors, and vendors alike. I am incredibly grateful to be a co-owner of a restaurant with the best patrons anyone could ask for.
When Chad and I planned on opening Whiskey Bird, the first step was to find the right location. We had several limitations and I was living in NYC at the time, with little knowledge about Atlanta. Chad set to work scouring the city and after 3 months he came across the space that had once held Timones, Caramba Cafe and several other concepts. I remember it well, the day he called me with this extreme sense of urgency and excitement. He said he found the location and that I needed to come down immediately. So I did. I looked at the space and left with the great feeling that we could make it work. We then did what many in the neighborhood do: went to Alon's for a pastry and coffee to talk more about the location. It was there sitting outside of Alon's, watching neighbors saying hi and catching up, walking their dog or just out for a morning stroll, that I saw what Chad had already known. This was the perfect location because this was not just a neighborhood, but a true community that genuinely cared about each other. We spent the next few days walking the neighborhood, eating at Doc Chey's and Family Dog, going to Sydney Marcus Park and driving up and down Highland from Ponce to Rock Springs. I was in Atlanta for a total of 3 days before I had to go back to NYC. I still knew very little about Atlanta, but I knew we had found the neighborhood we had been searching for. Now that the hard part was over, all we had to do was open the restaurant.
It took us a total of 7 months to open and another 24 months to really get things dialed in to where we wanted them to be. Right from the start and throughout all of our changes, we continued to receive your support. We re-invested every penny we made back into the restaurant and this past February we had our best month ever. Chad and I were excited for what we had accomplished and optimistic about the future. Then on March 17th, everything changed. We took action to quickly pivot to takeout in advance of the Mayor mandating it. Switching to takeout was like opening a whole new restaurant in 24 hours. We did this while simultaneously trying to navigate the Department of Labor and the SBA landscape to secure relief and funds for our team. I worried constantly. I think I slept a total of 12 hours that first week. The first weekend of takeout business was rough. But it was also incredibly promising as we were receiving support from all of our guests and the Atlanta community at large.
Throughout it all, the most amazing thing about Whiskey Bird has always been you, our community. I've gotten to know quite a number of you on a personal level and it's one of the things I've been missing the most - being able to say hi and ask you about your day, your family, your work. Restaurants at their core should be about personal and shared intimate connections. It's been difficult to lose the depth of our interaction with you in the dining room, but we still feel your hearts from 6 feet away. Since the very first day we closed our dining room the outpouring of support has been incredible and coming to us in so many different forms. Whether you are getting dinner from us weekly, buying gift cards online, or lingering at the door to smile and wave to the team... every single action matters and it all means the world to us. This outpouring of support has proven that we have achieved the most important goal a restaurant can strive for - that we matter to our guests and that we're an integral part of the community. As we navigate these turbulent times together, we will continue to pivot and be here providing a bit of normalcy to your days through our food and our smiles. Every shared moment is a beacon of hope that life will return to what we once knew and that we will all get there together. Thank you for three years, thank you for the years to come.