why we love bubble waffles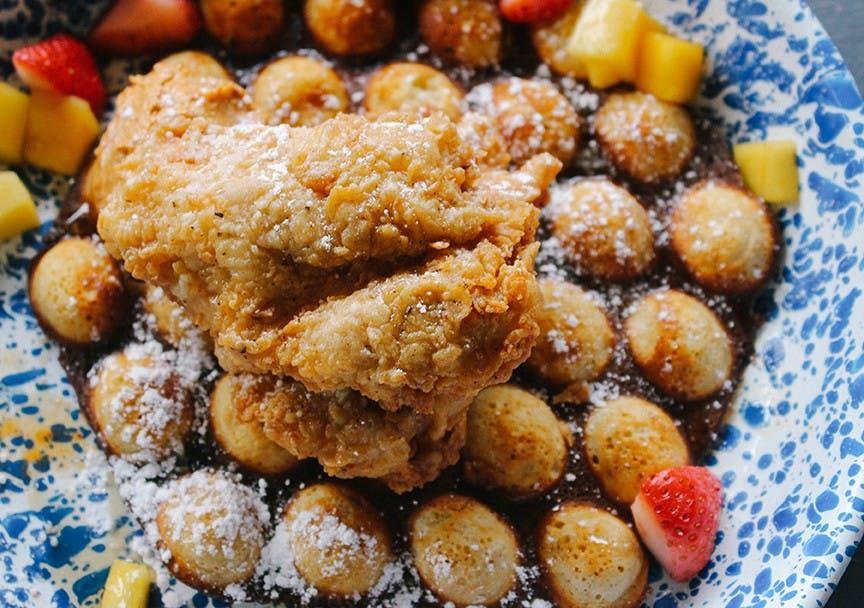 Belgian waffles. We all know what those are. But what about bubble waffles? If you haven't heard of them or seen them then prepare your mind to be blown and your brunch game to be changed.
From the street stalls in Hong Kong, bubble waffles are the vehicle of choice for a scoop of ice cream and the accompanying accoutrement. Bubble waffles are really exactly what they sound like – waffles with bubbles in them! So imagine a regular style waffle inverted from concave to convex. The waffle is essentially turned into this crispy pillow-y flexible piece of deliciously toasted batter. It's light and fluffy while still giving you that little bit of crunch.
Bubble waffles have taken the Asian food world by storm as an Insta-worthy way to house a sweet treat. Whiskey Bird decided that we're going to take this whimsical treat and bring it to the brunch table in two of our menu items: a Hong Kong Waffle and a Hong Kong CHICKEN and Waffle. Basically the two best ways to have a waffle.
Whiskey Bird's brunch service starts this weekend Nov 17th and 18th! Saturday and Sunday we'll be opening at 10:30am so come on in and see if these bubbles live up to your waffle dreams.